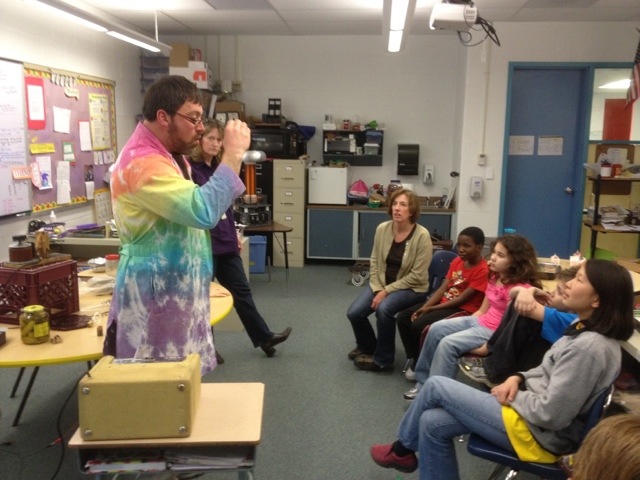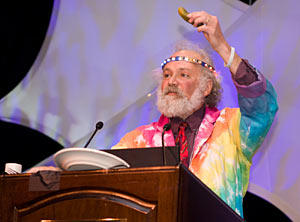 Over the years I have put together a number of programs which I present in a wide variety of settings
Jolts and Volts
 Central to my outreach is my "Jolts and Volts" show which I've been doing in various forms for the past 20 years I stopped counting when I had done shows for 50,000 kids…  I still manage to  I've average about one show per month in venues as small as rural elementary school classes to 1000 person gatherings . Over the years I'vealso  worked hard to use this program to selectively reach out to groups underrepresented in STEM careers including girls, people of color and the disabled community.  

Jolts and Volts (JnV), which has been evolving since 1993, is a content unit that explores electricity through a series of participatory demonstrations from microVolts to MegaVolts. Although this show has numerous opportunities for audience participation, it is more of a stage presentation than a build-it-and-take-it-with-you workshop. We ply our hair-raising and enlight'ning trade with demos using our VanDeGraaf generator, Tesla Coil, Jacob's Ladder, Theramin, Electrostatic motors, and pickle electrocuter. The presentation discusses basic electrical concepts, invited the participants to explore electricity via their senses and discusses history of the major inventions in electricity.
The current list of experiments includes:
Microvolts – a spontaneous student performance on a home built 'Theremin' musical instrument
Millivolts – a home built EKG tied to a Theremin to make music from a students heartbeat
Volts – a series of talking toys, and home built robots from very small to ride-upon size one built out of wheelchair motors
10 volts, – a demonstration comparing the conductivity of a student's tongue to that of steel wool .. very impressive
100 volts – making a light bulb out of a pickle. A multimedia mix of sight, sound and … smell !
1000 volts – a paper towel cannon ignited by piezoelectric discharge
10,000 volts a simple jakobs ladder with a discussion on spectroscopy
100,000 volts – experiments with a large van der Graaf generator including raising students hair, flying pie plates and rice crispie explosions
1,000,000 volts – a large home built tesla coil making 4 foot arcs to a pickle.
Much of our equipment is home-built. One of our major goals is to demonstrate engineering ingenuity and imagination as well as physics concepts. Jolts 'n Volts is our most traveled show, having been invited to some special IBM-sponsored events: the IBM Engineering Expo at the New York Hall of Science; and an EPCOT Center Show at Disney World. Unlike our usual presenter-funded efforts, both the travel and the lodging for these two presentations were funded by IBM. Jolts and Volts is presented roughly twice a month at area schools, boy and girl scouts, and other civic groups. The Program lasts from 1 to two hours with a typical audience between 30 and 70 elementary through middle school students though the program has been adapted for both younger and older audiences, Jolts and Volts has also been adapted to kids with different needs and backgrounds. For example, the shows have been adapted to deaf kids via an ASL translation and sound to 'feel' and sound to visual adaptations of many of the experiments We estimate that Jolts and Volts would have been seen by more than 100,000 kids in VT, NY, MA, DC and FL. The program has been featured on CNN, CBS, ABC, USAtoday, EETimes. And more than 50 national newspapers. (e.g. http://www.usatoday.com/tech/news/2004-06-11-madsci_x.htm) (or 'Google' "John Cohn" IBM or "John Cohn" science fun)
Inventors like You
I have a program aimed at getting kids to think of themselves as inventors. It highlights a number of common inventions and the stories and people behind them. Many of the examples are chosen to show that inventors are not all "old white men" .Examples include Louis Lattimer, an African American inventor that co-invented the modern light bubl, Stephanie Kowalik, the Diupont Inventor of Kevlat, and even kid inventors. .. Every invention is illustrated with a fun , interactive demonstration.
a link to the presentation i use as part of this program can be found here.
After School Science Enrichment
For several years, my wife and I offered a 6 week after school science program for elementary school student (grades 4-5) . The class was based around a kit that included
magnets
lens
motors
pH paper
wire
glue
startch
compass
LED's
switches
test tubes
buzzer
batteries
sound chip
paper clips
rubber bands
…. and some other stuff
I have a  syllabus for this class If you want more information, please contact me.