first of all.. we heard from gabe.. and he's having a blast in Buenas Aires.. he told me he's learning the tango ! It's so cool he's down there.. Here he is with the other two kids in his class..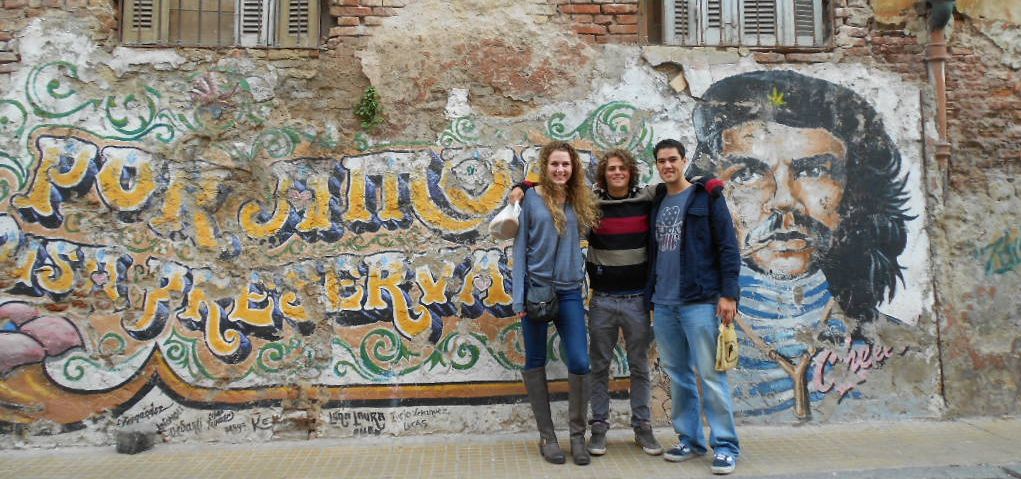 Further north, it was another great day in mexico city.. two university visits and one work lunch.. then dinner with javier and diane.. a very full day.. about 3 hours of it spent driving across this very huge and wonderful city.. The driving time gave me an opportunity to learn more about my hosts javier and selene which was really great…
I really love this town, this country and the people.. The three universities I've visited have all impressed me too !.. Today we started with Monterrey Tech.. My talk wasn't the smoothest.. but the audience had fun.. many of them were first year engineering students on only their second day of class.. It was so much fun hanging out and taking pictures with the students after my talk. I was so impressed with the students and the profs…
My hosts then treated me to a tour of some of the very cool labs that the students get to use.. they had advances fabrication labs like the one I'm trying to help get started at U of Vermont.. so it was well worthwhile seeing.. We also got a great demo of a scanning electron microscope/xray spectrography setup.. they showed me a microscopic MEMS (micromechanical) rack and pinion that blew my mind..
this afternoon I went to ITAM.. another great university.. it was packed.. many of the folks in the audience were business majors .. why they would want to hear a geek speak I have no idea. This talk went pretty well too.. Again.. it was so awesome hanging out with the students.. we were there about 30 minutes talking , laughing and taking a ton of pictures . Again the students were so great.. they asked wodnerful questions .. and i was very,very impressed.. !
I took so many pictures of us taking pictures that I decided it was better to squish them all in a single slide show.. hope that's ok.. Here's my day in a slide show.
Javier and I got back to the hotel around 7PM.. grabbed diane and headed back to the zona rosa for dinner.. the three of us had a great light meal at a mexican style sushi place.. (smoked salmon and cream cheese sushi wrapped in spinach and covered with chipotle sauce)
tomorrow I'm taking vacation and we're going to go explore the city a bit.. more on that then
for now
buenas noches todos, buenas noches sam
-me