Happy Pi day everyone.. March 14th == 3.14  the geekiest  day of the year.!
Geeks everywhere are celebrating by shining their slide rules .. I know my work neighbors had a big Pi(e) celebration in the cafeteria.. but I was traveling back to the states..    You know.. i should take this more seriously now. I was thinking about it yesterday how much I've grown to be the nerd I always dreamed of being. The hobbies, the look, the poor social skills. …the whole stereotype !.  Its only a very happy accident of fate that has equated being nerdy with being cool again.. where would I be if hat hadn't happened ?
This week in Turkey I met with many other wonderful  nerds and geeks at work.. one of them pointed me at the Geek Test . Its an online test of just how geeky you are.. I noticed a sec ago that it's even been updated for Pi day.. how geeky is that ?  It's many pages long.. so give yourself a good 20 minutes to do it..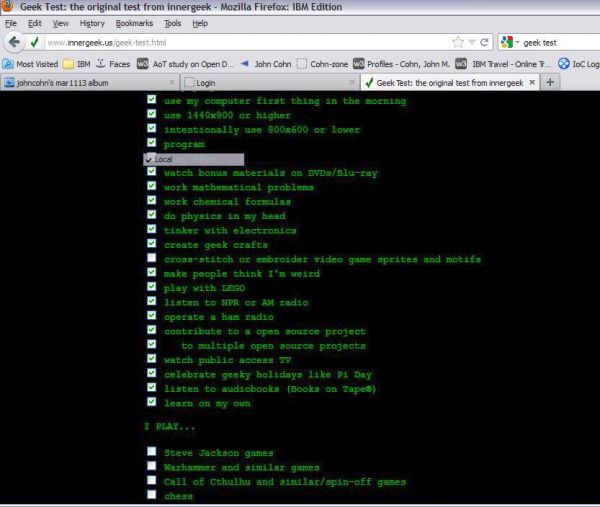 Anyway..   the fine folks in IBM Turkey asked me to take the test and submit the results.. I came in with a score OF 60.51661 % .. a solid "extreme geek".. I actually would have done "better".. but Im not into sci-fi, video games or RPGS… actually.. with those three strikes against me, I should be proud of having any geek cred..  I did score bi on electronic gadgets, peculiar interests, anti social habits , .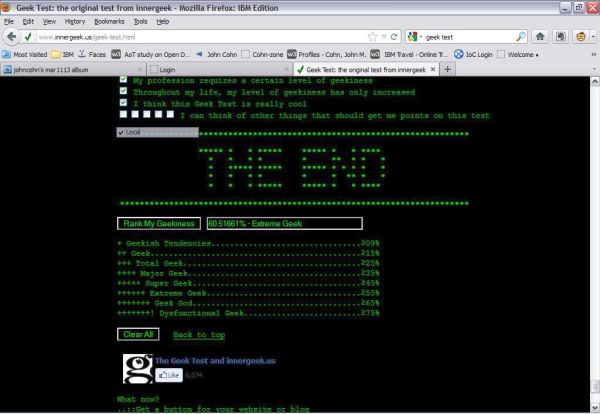 I'd be interested in hearing what you, gentle reader, score on this test.. i suspect that there are some Geek G-ds lurking out there..  please try it and let me know !
anyway.. happy Pi day everyone !
nite all, nite sam
-me