Today was Thanksgiving.. usually one of my least favorite holidays of the whole year.. I never much cared for it.. (it's not a great day to be a vegetarian) .. but since Sam's passing.. the week itself has always been hard..
Even so.. we had a good day.. It started with a run. Diane and I went down to the round church to join about 100 folks for the 5th annual Jarred Williams Turkey Trot.. The Turkey Trot is in memory of Jarred Williams who died of a brain tumor in 2001. Since then, his parents Dwayne and Maureen have raised about 300,000 dollars to support families of sick kids..  Dwayne announced at before the  race that they were goign to close down the foundation after this year. they'd done what they needed to do.. I am so impressed with the good that they've done.  Diane ran home which was 5k.. I ran 10K…. Sorry for the poor pictures.. they're from my old phone.. here's Dwayne making the announcement
here's Danielle, Jarred's sister and Maureen,, Jarred's mom.
After the race.. we just lazed around the house all day.. trying to stay hungry for tonight.. Gabe and I passed some of the time by continuing our exploits in photographing feed being blown up in slow motion .. here are some more shots ..
Finally around 6, we all went up to Deb's for her inaugural Thanksgiving dinner in her new place.. as always.. it was delicious.. it was just us, deb and her kids and the kenny's .. good company and good food. !  It brought back many good.. and soem panful memories.. I'll ever forget that first thansgiving when we came back from Florida after Sam's accident.. our house was full of pople.. it was wonderful and surreal.. and sad..
tonight was only easy and fun..
diane had put an angel card under each persons plate.. mine said 'patience'.. a good mantra for me now.
the carved turkey looked particularly beast-like !
ah .. jsut like a traditional thanksgiving.. the kids crowded around an ipad !…
Ian showed us a weird way to get your face to flap around.. too tempting to miss on slow
motion..
then scary movies for the kids.. and home to bed for us.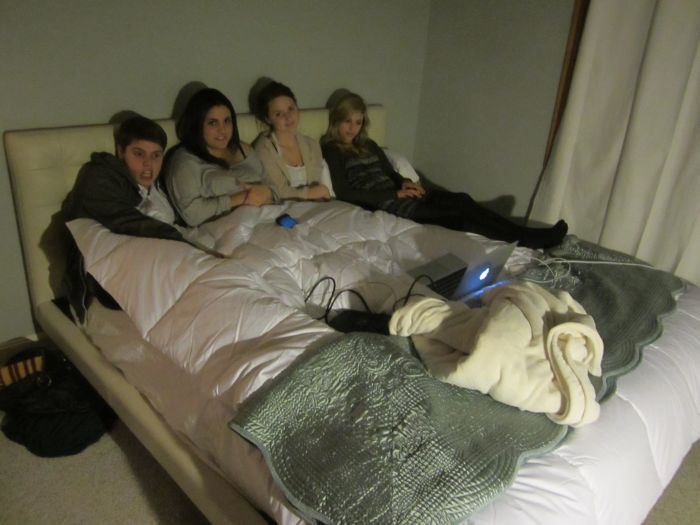 Now I've got to sign off.. too sleepy to keep typing.. I am thankful for my family and freinds.. and the love and support we get from you all. thank you !..
hope you all are having a great holiday
nite all, nite sam
-me