Greetings from Newark USA>. I landed here a few hours after 2 hours of subways, a 14 hour flight from Narita.. and now a 5 hour layover until the flight home..I'm SO looking forward to seeing everyone at home !
The day has been fun in a way that only a 23 hour travel day can be.. In some ways it's a bonus day.. I left Tokyo about 6PM.. on the 25th .. and got to New Jersey   at 4:30 the same day.. not bad.. It would be a recipe for eternal youth if I didn't have the opposite happen on the way out.. Though somehow.. I still think I came out a day ahead, since I traveled over the Atlantic to get there.. and over the pacific to get back..
Both topics  (going home, and going around the world this week) remind me of one of my favorite  roamntic geek cartoons from htttp://xkcd.com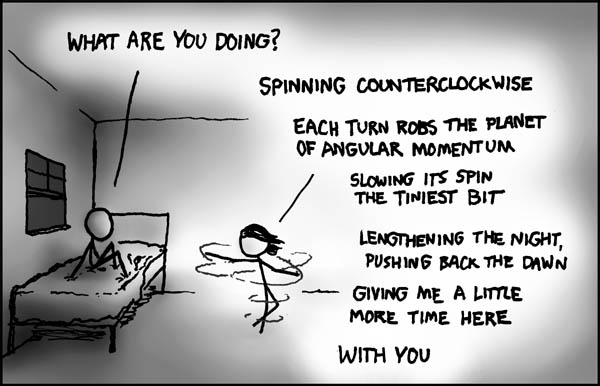 ANYWAY.. i DIGRESS… PROBABLY BECAUSE i'VE BEEN AWAKE FOR 36 HOURS…
where was i ?  Oh.. In Japan..
I woke up on today number 1 in Sugnami-Ono.. I quickly packed .. then got on hour train ride to downtown Tokyo station.    I've been on subways all over the planet.. and Tokyo's are among my fav's.. clean. quiet. fast and full of polite and clean smelling people..    When I say polite.. I mean really polite.. as in the nice sleeping lady on the left actually offered me  her seat since I had luggage (can you believe that ?!?)
here's me looking like the only-gaijin-white-guy-can't-read-Japanese on the whole train… guy..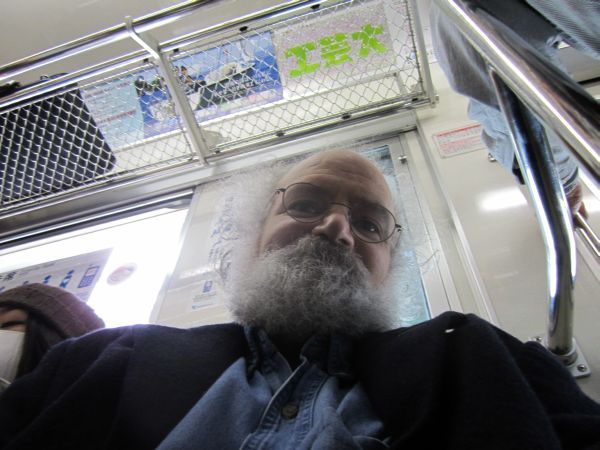 At least .. I brought no dangerous goods.. which I guess would be bad goods…
At Tokyo station I met up wiht my good friend Hiroshi-san .Hiroshi-san was at IBM for more than 20 years.. we got to kow oneanther well when we served on the same corporate committee… He's a smart, funny and all around wonderful guy.  We hadn't seen each other in about 2 years, so it was very good getting the time to catch up. Hiroshi helped me find a locker to store my bags.. then we headed north (I think ?) two stops to Akihabara.. or 'electric town'.. the centre of electronics 'otaku' geekiness of Tokyo.. and therefore, arguably the world..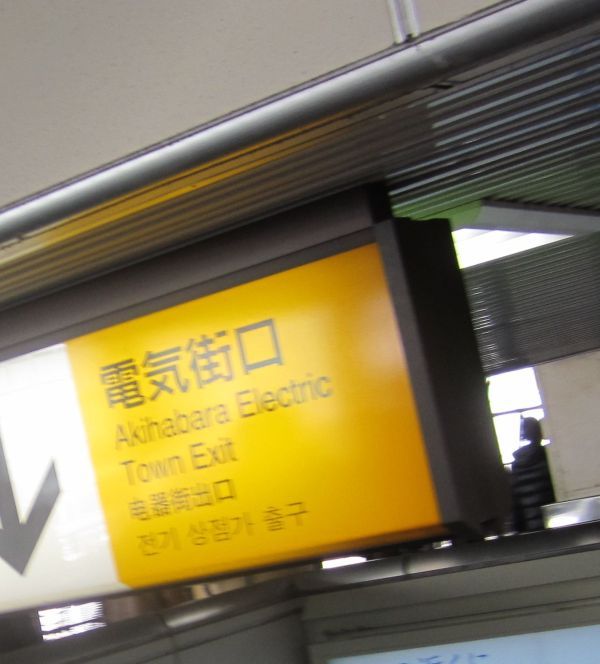 First stop was lunch in a Soba place overlooking the crowded market.. (Nintendo was making a major announce today.. which made it extra crowded, I heard)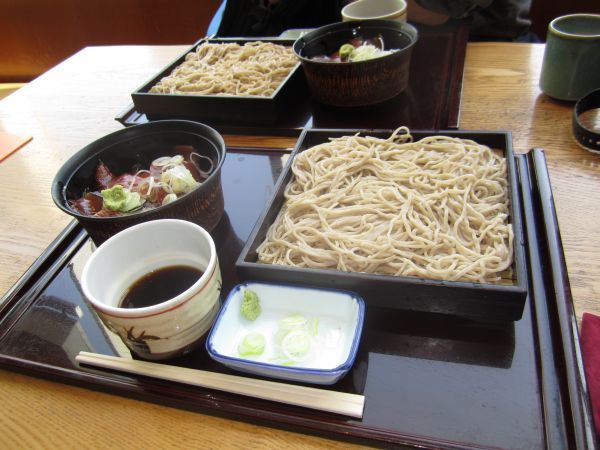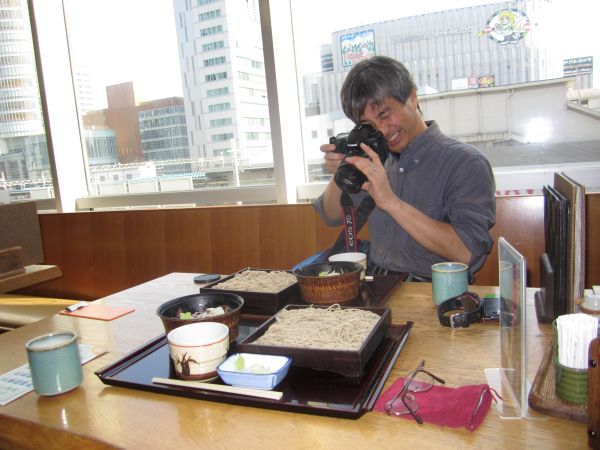 Next stop was Otako (geek) heavan.. store after store of electronic components, chips. resistors, LED's.. Just amazing stuff.. a
THe great thing about having a native guide is that Hiroshi-san took me to the absolute geekiest place in Akihabara…which.. by the chain rule.argument I made above . makes it the geekiest store on the face of the planet.. . What was even cooler is that the  store was full of people… actually looking at the stufff… flipping through the chips, sniffing the resistors, squeezing the capacitors.. . which means they still remembered how to make stuff.. My heart rejoiced !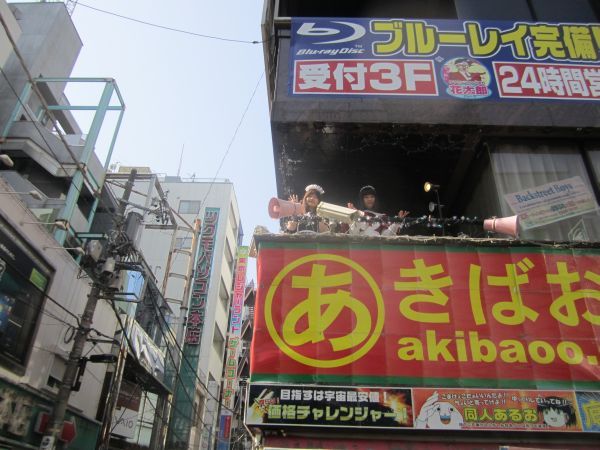 we spent about 30 minutes going through packets of kanji covered parts, .. i greedily stuffed some into my basket..
then thoguht better of it.. and put most.. (not all ) back on the shelf..
a few minutes after we got to the store.. we were met by the Takemura's. Takemura-san senior is an old work freind of Hiroshi-san.. Here's his son   who's a 3rd year design student.. he was san amzing kid.. he had this beutiful 1951 Leca camera .. ti was like a work of art…  They Takemura's had come to meet me since they'd seen some the engineering paradise video…. how cool is that ?
together the four of us rifled through the components some more and compares currents, voltages, feeds and speeds.. I can think of no better use of a tokyo morning
After we checked out.. we went out for lunch number 2..It was great hanging out with the three of them Takamura-san gave me some cool anime figures and a tamborine that I need to work into a movie  soemhow.. (I'll do it !)
Young master Takemura gave me a very cool Manga !.. They are such generous and kind folks !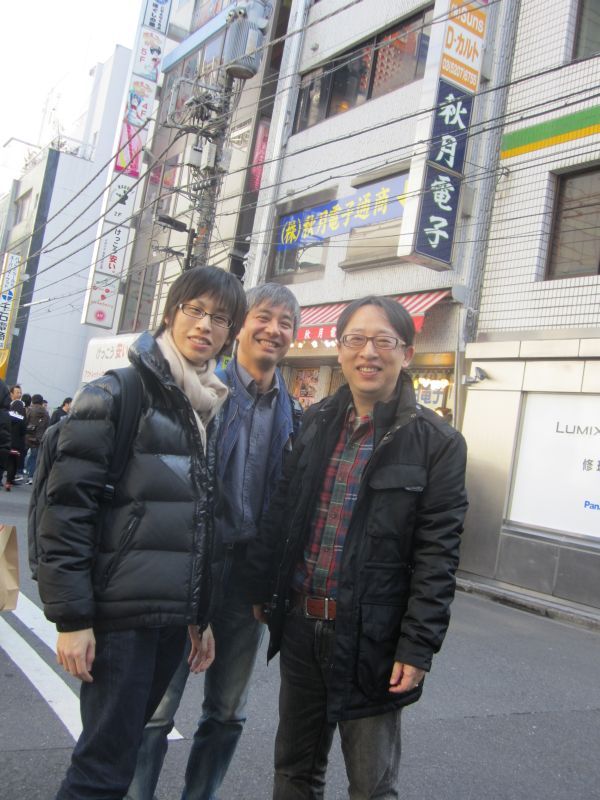 Then it was time for me to head back to Tokyo to catch my train.. we all said Sayonara… and Hiroshi-san and I headed back to the station
We got to the station just in time for me to say goodbye to Hiroshi.. It had been so good catching up with him..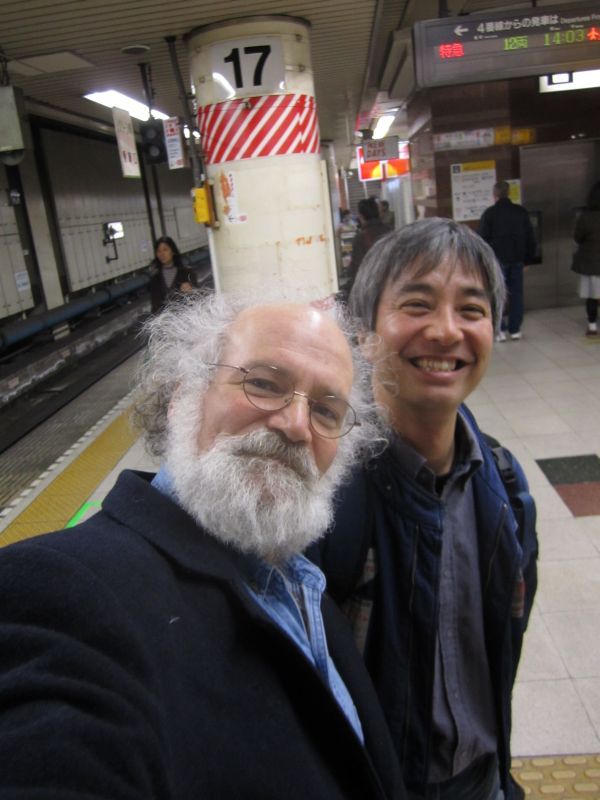 I caught the Narita express

and an hour later I was in that huge place..
I got myself organized for my flight, placed a SamStone .. (I think the 4h I've put in this airport)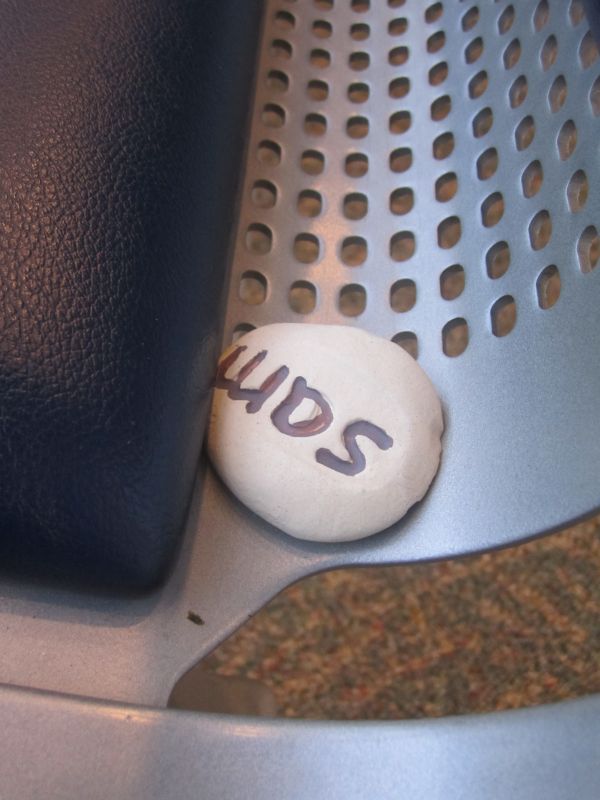 and the next 13 hours were as unexciting as one can imagine..if it sayys anything.  the hilight were two completely inedible meals
OK.. enough for now.. I need to stand up and keep moving.. or I'll fall asleep.. more tomorrow.. it's almost nice to be almost home
nite folks, nite sam
-me