Greetings fro Atlanta GA.. I'm here for a quick down and back to honor my
good friend (and PhD advisor) Rob for his years of service driving a  very successful cross university research program for the past 8 years.
To get here, I had to catch a 6AM plane.. not my favorite thing to do on a weekend morning.. but all in all , I'ts been a very good trip. I got to see some good old freinds.. even some I hadn't planned on seeing.. As I was stumbling around JFK this morning I ran into my friend Grady and his wife Jan just off a plane from London.. Actually, I  first notices Jan's very cool hand painted driess (painted with a credit card, it turns out).. then I saw Grady behind her.. .. It's one of those funny small workld things wbcause they live in hawaii..   It was great catching up with them..

I think we kinda look alike.. no ? (same hair stylist at least)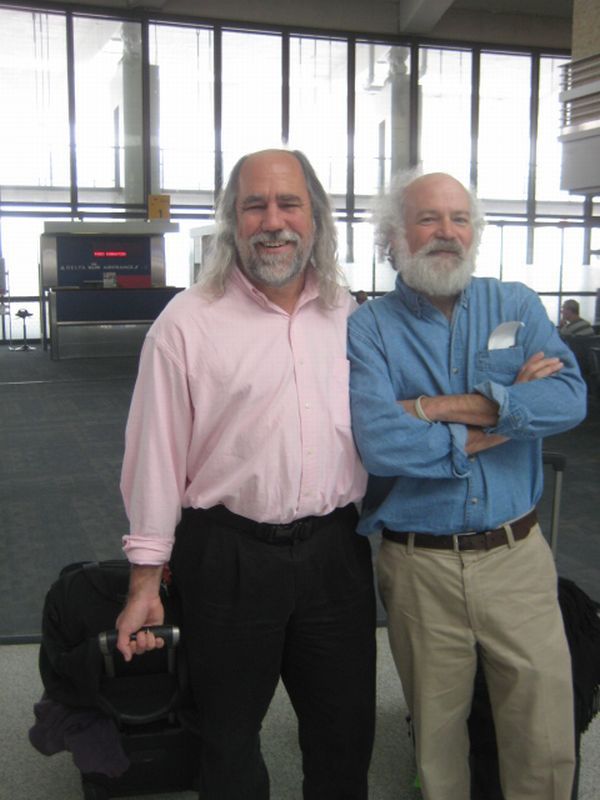 I worked the rest of the morning and then on the plane. I got to Atlanta around 2.. and caught the wonderful MARTA train to down town.
It's a really nice city.. I didn't  get to explore much.. I had a sore throat and (I think a little fever.). I went to my hotel and meditated/slept for an hour before the party tonigh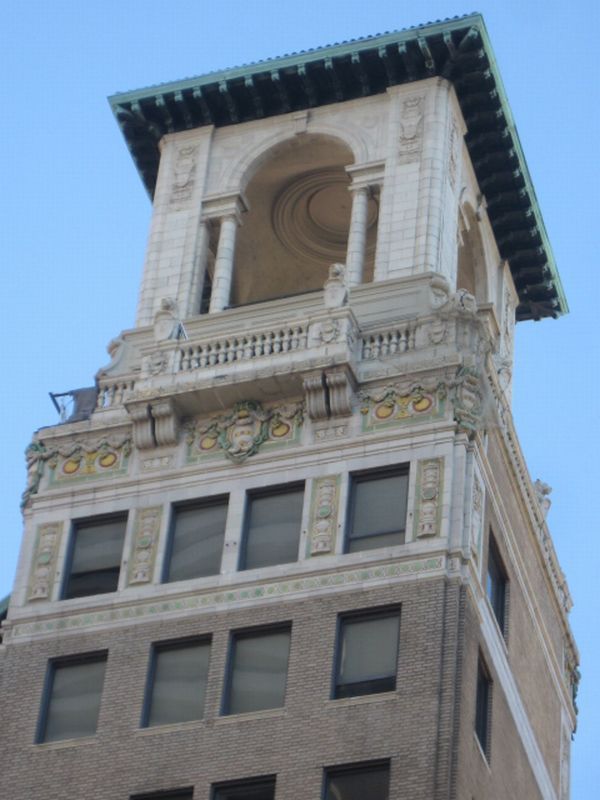 II got there right at 6.. Rob. the guest of honor was delayed.. he got there around 7.. there were about 20 of us there to roast/toast him.
Larry and leah were there.. as was my friend paul. dale, david. charlie, bill,  mehmet and rick.. It was great catching up with all of them..
It was particularly nice to see all the love that was there for Rob.. he's really a great mentor and friend to so many of us. He's now the dept head of CS at UI Champain Ubana..   One by one we all got up and told stories.. My effort was a poem that included the research centers 5 themes in some sort of poetic gibberish.. not my best work.. but appreciated.. I think..   there were soem good stories from several folks. People talked about Rob's wit and his orginizational abilities.. and his broad technical skills. Several people singled out Rob's excellent communication skills.. he's the worl'd best power point user, I think
I was really glad to get to see rob's wife Martha.. it's been awhile since I've seen here.  She's awesome.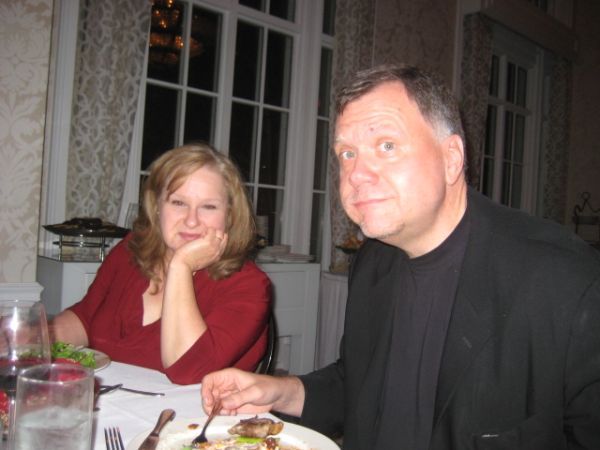 here we are looking fuzzy.. i'm wearing my one tie.. a jerry garcia.. that Rob actually bought for me back in the mid 90's.. that's a good friend. !
the party broke up around 10.. I had a few good technical talks.. then back up to my room in this cool hotel..
Now I'm going to try and sleep off this bug I have.. More tomorrow
nite all, nite sam
-me