It's the end of a tough week.. I feel really washed out..Grieving.. even by proxy.. is hard work..   All week friends have been checking in with us.. and with Gabe to see how we're doing..   Many folks comment that Dylan's passing must bring back painful memories.. .. we appreciate everyone's concerns.. though it's not exactly like that.. Dylan's death doesn't bring back memories for us.. we always have those memories…. every day..  ..  it's much more that we miss him.. and we hate seeing his family hurting..   Again, .. we do really appreciate folks checking in
I'm feeling better now.. but I'm still in a fog and not thinking straight.    I had to take it easy again today…. Luckily it was a rather light work day.. I had breakfast with Burning man friend Duane.. then calls all morning.. I took advantage of the call time.. and some help from Justin at work to rearrange my office and hang some pictures of and from my kids.. Putting those pics up helped me feel better.
THen I met Chis and Kasey for lunch.. it was so good catching up with them..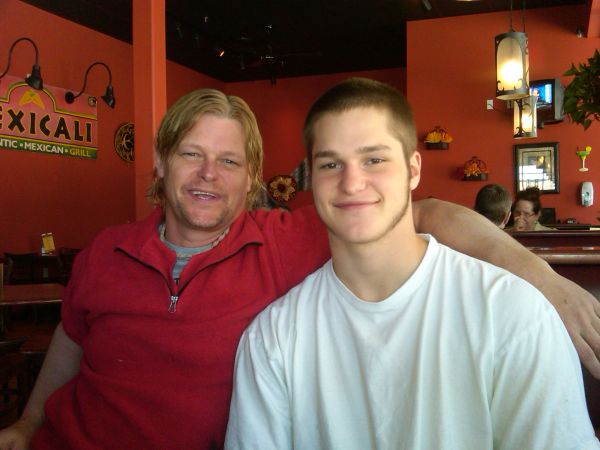 Here are father and son tribute tats to Sam.. Kasey's brother Jake has the same one..   that's love.. !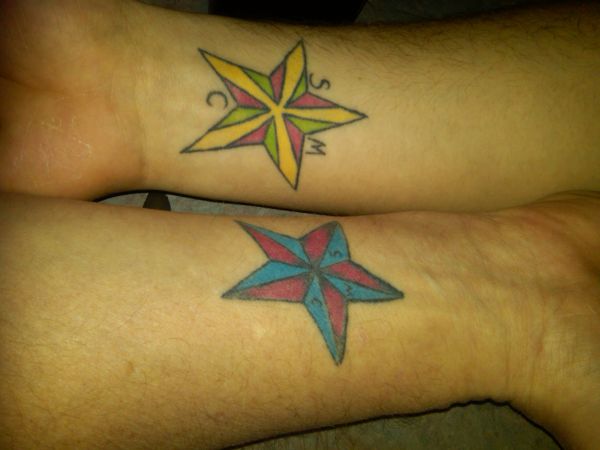 The rest of the day was meetings.. then a short stop at Jim and Sue's to check on them.   Then home…
I mentioned that being 'washed up' was the theme of the day..    The thought came ot me as I dropped my sports coat and my one tie at the dry cleaner.. I'd accidentally thrown them all in the wash machine when I came back from Boston suddenly.. I'm going to see if they can salvage either of them.. if not.. I'll be tie-less !.    I also had to drop by Bestbuy to replace the bluetooth earopone from my phoe.. His was a replacement for the 4th one of those I've destroyed b accidental washing..
The perils of clean living I suppose..
Nite all, nite Sam
-me